Archive for December, 2009
This Friday THE PINK BUTLERS present THE PINK MAIDS with a little less clothing than usual in support of Breakthrough Breast Cancer. If that is not a good enough cause to join us we have a complimentary chocolate & champagne reception. So come down to Cafe de Paris, indulge yourself in all the action & don't forget ………to have fun!
Join the FUEL GIRLS at CAFE DE PARIS for the exclusive, unique shows and an atmosphere of pure outrageous and sexy rock and roll fun!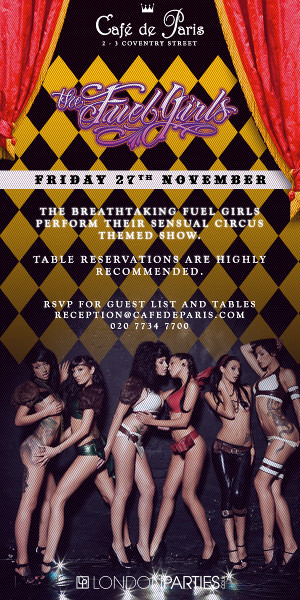 The infamous FUEL GIRLS have been touring the world with their hot stage show. Now, after shows everywhere from Las Vegas to San Tropez, the FUEL GIRLS are coming back to London. The sexy circus theme gets wet and wild downstairs with the hottest dancers; they breathe plumes of fire into the air and pour shots for those lucky enough to be within arm's reach.
Wild energy that brings down the house every night.
On (SATURDAY 28TH NOVEMBER) we exclusively bring The Gorgeous SOPHIE PRICE Official London Birthday Bash. Join JORDAN'S sister SOPHIE PRICE for an Exclusive Party in London's Cafe de Paris. With JORDAN now out of the Jungle this a night seriously not to be missed!
For guest list or table bookings contact me as they are very limited.