Archive for the 'London Clubbing' Category
After celebrating his victory in being awarded the Best DJ in the esteemed London Bar and Club Awards, lucky Tom Crane was adorned with congratulations, hugs and smooches from his soon-to-wed fiancée, Sarah Harding.
A clearly besotted and enthusiastic Tom Crane was understandably happy with his success in taking the honours and the presence of Miss Harding, highly tanned and glamorously wearing a skimpy brown and yellow number with open aired heeled shoes, undoubtedly rounded his day off with style!
The presentations of the London Bar and Club Awards were triumphantly given to winners at the prestigious Intercontinental Hotel, where Mr Crane and the soon to be Mrs Crane danced, drank and made merry until the early hours, before returning to her North London home.
The almost thirty singer and Girls Aloud performer decided to tie the knot with Tom Crane during the festivities of New Year's celebrations in 2010 whilst they sunbathed together in the sunny climates of the Maldives – at the awards they looked a perfect match for each other.
Also in attendance at the award ceremonies were reality television star James 'Arg' Argent, from ITV's 'The Only Way is Essex' (often called TOWIE), who was partnered with casual girlfriend Lydia Bright.
Sarah Harding is currently working hard to sweat it out with her personal trainer in a bid to become even toner and sexier, all in time for her wedding day, even though she has kept the exact venue and date a closely guarded secret!
Scheduled for the 6th June, 2011, the London Club and Bar Awards, an annually presented event of importance to the club scene, will be held at The Intercontinental Hotel, based in Park Lane, London.
The awards, which note the very best milestones and advances in the bar and club world, are only presented to those recipients who are worthy enough to have been recognised in being able to deliver the most innovative, unique and amazing entertainment.
Starting almost twenty years ago from 1994, the trendy awards are now recognised today as the most significant award presentations that reflect the successes of modern nightlife industries. Award winners are decided by those who actually enjoy the clubs and bars, alongside appropriate media and nightlife experts, making this a truly people-led experience.
Heralded as a must see attraction, the presentations are often frequented by many important individuals, stars and celebrities all involved in thrilling and entertaining club culture. Those in attendance are established and fresh DJs, bar and club proprietors, organisers of show business events and many more notable attendees.
The London Club and Bar Awards of 2011 are packed to the brim with sixteen different classes of award presentation, ranging from the established 'Best Club', 'Best Bar in the City', alongside newly given categories all featuring 'best' in abundance, of 'Best DJ', 'Best Club Promotions', 'Best Night' and 'Best Restaurant Bar'.
An awards ceremony not to miss, it even features 'The Outstanding Achievement' gong, which is sure to vibrate the senses of all who attend! After the awards, those seated at tables (which cost in excess of £2000 each!), can enjoy a luxurious dining experience given in The Grand Ballroom, which is sure to satisfy any appetite!
BOND – Formally 24, Bond sits head and shoulders above any other London club as far as Sexiness and style is concerned.
From the moment you walk in you can see the amazing wall projections and I-Tables!
The dancefloor boasts London's only I-Bar, this can keep you amused for hours! it is a MUST see! A big bar means a quick service, you never have to wait long to buy a drink over bar, no matter how busy it is.
Possibly the best VIP tables and service in London. there is no small tables with no seating here! all have big seating areas and great space! as well as I-Tables to keep you amused.
A brand new concept comes to London's West end.
Sick of the typical west end night out? We are here to change things forever!
THANK F*** ITS FRIDAY
Here to bring the fun back into Fridays as well as a lot of naughtiness.
Every Friday at Bond, London's sexiest club by far!
Expect the unexpected!
London's BEST DJ's every week, as well as in club surprises and entertainment.
BOND
24 KINGLY ST, W1B 5QP
London, United Kingdom
Soap actress Louisa Lytton pictured on a nightout at the Funky Buddha nightclub in London. UK.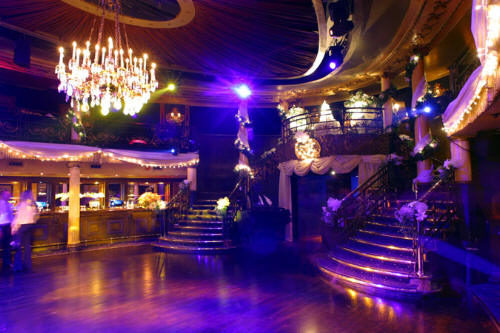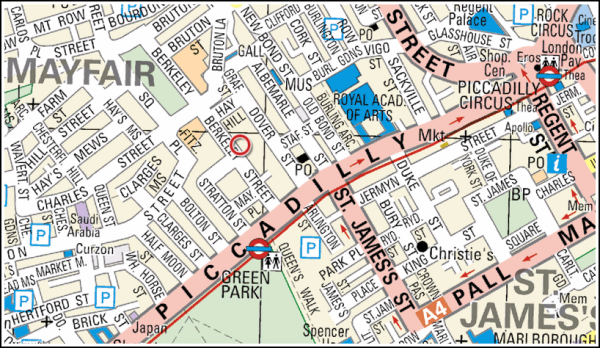 This Friday THE PINK BUTLERS present THE PINK MAIDS with a little less clothing than usual in support of Breakthrough Breast Cancer. If that is not a good enough cause to join us we have a complimentary chocolate & champagne reception. So come down to Cafe de Paris, indulge yourself in all the action & don't forget ………to have fun!
Join the FUEL GIRLS at CAFE DE PARIS for the exclusive, unique shows and an atmosphere of pure outrageous and sexy rock and roll fun!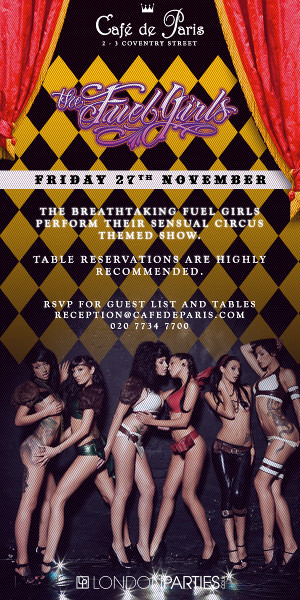 The infamous FUEL GIRLS have been touring the world with their hot stage show. Now, after shows everywhere from Las Vegas to San Tropez, the FUEL GIRLS are coming back to London. The sexy circus theme gets wet and wild downstairs with the hottest dancers; they breathe plumes of fire into the air and pour shots for those lucky enough to be within arm's reach.
Wild energy that brings down the house every night.
On (SATURDAY 28TH NOVEMBER) we exclusively bring The Gorgeous SOPHIE PRICE Official London Birthday Bash. Join JORDAN'S sister SOPHIE PRICE for an Exclusive Party in London's Cafe de Paris. With JORDAN now out of the Jungle this a night seriously not to be missed!
For guest list or table bookings contact me as they are very limited.
Peter Andre and Chantelle Houghton were spotted getting close at Funky Buddha Nightclub last night. We don't know if there were any fireworks, but they were definitely having a good time.
Get on the guestlist for London superclub Cafe de Paris… £15 for guys, girls free before 11PM.