Archive for the 'VIP Clubs' Category
Scheduled for the 6th June, 2011, the London Club and Bar Awards, an annually presented event of importance to the club scene, will be held at The Intercontinental Hotel, based in Park Lane, London.
The awards, which note the very best milestones and advances in the bar and club world, are only presented to those recipients who are worthy enough to have been recognised in being able to deliver the most innovative, unique and amazing entertainment.
Starting almost twenty years ago from 1994, the trendy awards are now recognised today as the most significant award presentations that reflect the successes of modern nightlife industries. Award winners are decided by those who actually enjoy the clubs and bars, alongside appropriate media and nightlife experts, making this a truly people-led experience.
Heralded as a must see attraction, the presentations are often frequented by many important individuals, stars and celebrities all involved in thrilling and entertaining club culture. Those in attendance are established and fresh DJs, bar and club proprietors, organisers of show business events and many more notable attendees.
The London Club and Bar Awards of 2011 are packed to the brim with sixteen different classes of award presentation, ranging from the established 'Best Club', 'Best Bar in the City', alongside newly given categories all featuring 'best' in abundance, of 'Best DJ', 'Best Club Promotions', 'Best Night' and 'Best Restaurant Bar'.
An awards ceremony not to miss, it even features 'The Outstanding Achievement' gong, which is sure to vibrate the senses of all who attend! After the awards, those seated at tables (which cost in excess of £2000 each!), can enjoy a luxurious dining experience given in The Grand Ballroom, which is sure to satisfy any appetite!
Soap actress Louisa Lytton pictured on a nightout at the Funky Buddha nightclub in London. UK.
This Friday THE PINK BUTLERS present THE PINK MAIDS with a little less clothing than usual in support of Breakthrough Breast Cancer. If that is not a good enough cause to join us we have a complimentary chocolate & champagne reception. So come down to Cafe de Paris, indulge yourself in all the action & don't forget ………to have fun!
Join the FUEL GIRLS at CAFE DE PARIS for the exclusive, unique shows and an atmosphere of pure outrageous and sexy rock and roll fun!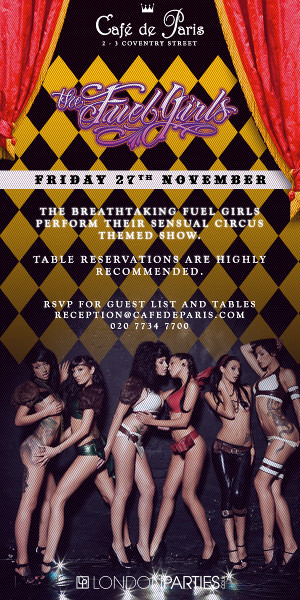 The infamous FUEL GIRLS have been touring the world with their hot stage show. Now, after shows everywhere from Las Vegas to San Tropez, the FUEL GIRLS are coming back to London. The sexy circus theme gets wet and wild downstairs with the hottest dancers; they breathe plumes of fire into the air and pour shots for those lucky enough to be within arm's reach.
Wild energy that brings down the house every night.
On (SATURDAY 28TH NOVEMBER) we exclusively bring The Gorgeous SOPHIE PRICE Official London Birthday Bash. Join JORDAN'S sister SOPHIE PRICE for an Exclusive Party in London's Cafe de Paris. With JORDAN now out of the Jungle this a night seriously not to be missed!
For guest list or table bookings contact me as they are very limited.
Singer Alesha Dixon (former member of girl group Mis-Teeq) was recently refused entry into the Funky Buddha nightclub in Mayfair, it has emerged.
The 31-year-old Dixon had a booking at the club but it looks like the doorman had not been informed of the same. After some angry protests, Dixon and her pals were not allowed in, reports the Daily Star. Thereafter, the Strictly Come Dancing winner turned judge headed to a hotel nearby where she was spotted clutching her head in her hands.
Get on the guestlist for London superclub Cafe de Paris… £15 for guys, girls free before 11PM.
Chinawhite re-opened last week in what can only be described as a "blaze of glory". Fresh and exciting in a stale London nightclub scene, there were queues tailing down Oxford Street on Saturday night at clubbers attempted to get in for the first Saturday reopening. No doubt, many were turned away with the club's notoriously strict door policy – suffice to say, the quality inside the club was high.
The legendary Chinawhite Nightclub will be re-opening in London in new premises on the 19th of October. Sure to be a party rocking until the early hours, we can't wait to see what they've come up with.
Strutting down Berkley Street, it is easy to walk straight past Funky Buddha, as it is only the subtle purple logo that beckons you in from street level. This exclusive Mayfair Club is not to be confused with Buddha Bar by London Bridge but has the same bar/lounge concept. Although the venue is slightly small and the dance floor can get packed, the place has recently had a half a million pound makeover which includes wall to wall mirrors, neon green lights and bar area seating.
Students are however, welcomed and sometimes not even ID'd if you confidently stroll through with guest list entry. It's not uncommon to spot a great female DJ behind the decks on some weekends, spinning the latest RnB, funky house and some old classics. The bar staff put on a great show with their cocktail skills and certainly don't hold back on the spirits.
The reward for ladies traipsing through London in 6-inch heels is that entry is free before 11pm but lads are still set back £20 for entry to the club, regardless of guest list status. A VIP area table is a great base to party from for a special night out and if a big group of mates all chip in, the £500 minimum spend may be deemed worth the while. Celebs recently spotted partying at Funky Buddha with bottles of champagne and sparklers are the Atomic Kitten girls and even Prince William.
As with any high brow West-End club, you have to be dressed to kill. No trainers, caps, or scruffy old t-shirts please.
After last week mayhem caused by the Playboy girls who entertained us all night long tonight the F1 Grid Girls will be throwing their send off party to the Italian Grand Prix with a cocktail and canapés reception.
Ladies are entitled to complimentary entry until 11.30pm so get your self on the guest list quickly because it will be closing shortly.
Also a brief reminder about next week Friday 18th September DJ Neil Amstron and Memphis Bleek host the Roc-A-Fella after party for the Jay Z / Coldplay concert at Café de Paris. A night not to be missed! Friday night's just keep getting better and better.